Top 20 777 Studios Games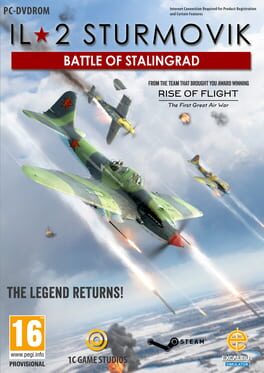 IL-2 Sturmovik: Battle of Stalingrad is the continuation of the legendary IL-2 Sturmovik series that has set the standard for combat flight games for more than 10 years. This new entry into the series will offer virtual pilots an even more accurate simulation of the legendary air battles of World War II. A new higher level of physics modeling, damage modeling and aerodynamics has been achieved which allows for far greater realism than in any other title.
Was this recommendation...?
Useful Rise of Flight is the most realistic WWI PC flight simulation ever created. Take to the skies of war torn Europe and experience daring air combat at the dawn of aviation. Re-enact famous air battles fought by legendary aces such as Manfred von Richtofen, James McCudden, Georges Guynemer and Eddie Rickenbacker. Rise of Flight transports you to a time when courageous pilots fought each other for control of the sky high above the bloody trenches. In aircraft made of canvas and wood they battled to the death. While some survived to become legends, most met a fiery fate. Do you have the skills and the courage to become an Ace?
Was this recommendation...?
Useful