Top 20 Acttil Games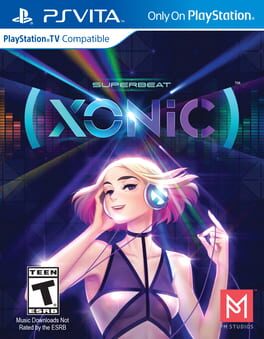 SUPERBEAT: XONiC is an upcoming rhythm game developed by Nurijoy, a company formed by former employees of Pentavision. It is considered a spiritual successor to the DJMax music game series and its gameplay is based on the 2014 arcade game Beatcraft Cyclon, also made by Nurijoy. The gameplay of SUPERBEAT: XONiC consists of tapping notes to the beat of a song, either with the PlayStation Vita's face buttons or touchscreen. Modes, in order of difficulty, include 4 TRAX mode, 6 TRAX, and 6 TRAX FX. When selecting any mode, 3 tracks are played in succession and the player's performance is evaluated at the end. Local scores can be uploaded to a global online leaderboard if connected to the internet. SUPERBEAT will feature over 50 different tracks from a variety of genres, including soulful house, RnB, indie pop, progressive metal, and big beat and many more, and will include a collection of original music from producers such as 3rd Coast, ND Lee, Tsukasa and others.
Was this recommendation...?
Useful
Ray Gigant is a Japanese dungeon-crawling role-playing game. The stage of Ray Gigant is set in June of year 20xx, where the world has been destroyed by a giant creature known as the "gigant" that suddenly appeared on the planet. The story revolves around three characters, with Ichiya Amakaze as the protagonist, alongside Nil Phineas and Kyle Griffon. In battle, your party is made of three members. Unlike other dungeon-crawlers by Experience, the perspective in combat will show the backside of the characters.
Was this recommendation...?
Useful