Adult Swim Games
Adult Swim Games

(Company)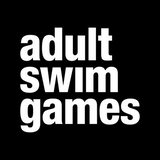 69

/

100

20

Overall rating based on 20 games
Adult Swim (stylized as [adult swim] or [as]) is an American cable network that shares channel space with Cartoon Network, both of which are owned by Turner Broadcasting System, a division of Time Warner, Inc.
Adult Swim partnered with Midway Games in 2005 to begin development on video games based on Aqua Teen Hunger Force, Space Ghost Coast to Coast, The Brak Show and Sealab 2021.
They have continued since to publish select indie games on Steam including Super Puzzle Platformer Deluxe, Völgarr the Viking, Jazzpunk and Duck Game.
Sorting
Rating
Title
Release Date
Zenzizenzic
Jun 04, 2015
(

...

)
Linux / Mac / PC (Microsoft Windows)
Oblitus
Jan 05, 2015
(

...

)
PC (Microsoft Windows)
Sorting
Rating
Title
Release Date
Duck Game
May 13, 2014
(

...

)
PlayStation 4 / PC (Microsoft Windows) / Ouya / Nintendo Switch
Desync
Feb 28, 2017
(

...

)
PC (Microsoft Windows)
Headlander
Jul 26, 2016
(

...

)
Xbox One / PlayStation 4 / PC (Microsoft Windows)
Jazzpunk
Feb 07, 2014
(

...

)
PlayStation 4 / Linux / Mac / PC (Microsoft Windows)
Rise & Shine
Jan 13, 2017
(

...

)
Xbox One / PlayStation 4 / Linux / PC (Microsoft Windows) / Nintendo Switch
Last updated on