ArenaNet
ArenaNet

(Company)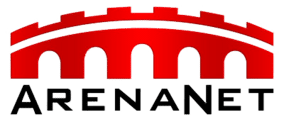 81

/

100

10

Overall rating based on 10 games
ArenaNet was founded in spring 2000 by Mike O'Brien, Patrick Wyatt and Jeff Strain. All three founders came from Blizzard Entertainment and were previously involved in the development of multiplayer online games such as Warcraft, Diablo, Starcraft, World of Warcraft and the Battle.net gaming network. The newly-formed business was originally called "Triforge", but was changed to "ArenaNet" shortly after; it was acquired in 2002 by NCSoft.

ArenaNet is the developer of the Guild Wars trilogy: Guild Wars: Prophecies (2005), Guild Wars: Factions (2006), and Guild Wars: Nightfall (2006), as well as the Guild Wars: Eye of the North (2007) expansion pack. After the announcement and subsequent release of Guild Wars 2, ArenaNet ceased development of expansion packs or standalone sequels for Guild Wars, but has continued to support the game. Since 2013, ArenaNet transitioned to automated maintenance and support of Guild Wars.

ArenaNet is currently focused on the development and support of Guild Wars 2, which was announced in 2007 and released in August 2012. Since the game's release, ArenaNet has continued to develop new content and features in the form of the Living World and Feature Packs and Releases, with content released for free to owners of the game.
Sorting
Rating
Title
Release Date
Guild Wars
April 1st, 2005 (14 years ago)
PC (Microsoft Windows)
Guild Wars 2
August 18th, 2012 (7 years ago)
PC (Microsoft Windows)
Sorting
Rating
Title
Release Date
Last updated on