Top 20 Bullet-Proof Software Games
Tetris is an electronic puzzle game that was created by Alexey Pajitnov in 1984, while working in the USSR as a computer programmer. Pajitnov often programmed games to test new equipment using simple tasks, and in his spare time, developed a computer game inspired by his favorite puzzle board game Pentominos. The objective of Pentominos was to fit 12 different geometric-shaped pieces formed out of five squares into a box.
Pajitnov's vision was to create an electronic game where players arranged puzzle pieces in real time by having them "fall" faster and faster from the top of the screen. Pajitnov designed the game using seven distinctive playing pieces made from four squares. He called it Tetris, after "tetra," the Greek word for four, and tennis, his favorite sport. After giving the game to his colleagues, it became an instant, hugely addictive hit, and shortly thereafter spread like wildfire throughout the Soviet Bloc's computer literate. His subsequent friendship with game designer, Henk Rogers, now Blue Planet Software Chairman and Managing Director of The Tetris Company, brought the Tetris game out of the Soviet Union to become one of the most widely played electronic games of all time.
Was this recommendation...?
Useful
The Empire stretches its evil clutches across the galaxy, consuming planets with devastating results. Through many struggles, the Rebel Alliance has learned of a new Imperial battle station, the Death Star, with enough power to destroy an entire planet.
The evil Empire is secretly building a massive army to complete their arsenal of domination and render their reign of terror unstoppable. Kyle Katarn, a formal Imperial Stormtrooper must join the Rebel Alliance's covert operations division, and re-take the Empire from the inside, one battle at a time.

Unlike many other Doom-based games, Star Wars: Dark Forces attempted a realistic approach: the missions followed a specific storyline, sometimes cut up by scenes to progress the narrative. Each mission had its own briefing and objective. The levels were designed to represent actual bases, mines, facilities, and other known places from the Star Wars universe, like Star Destroyer interiors, Jabba's ship, Coruscant, etc.
Was this recommendation...?
Useful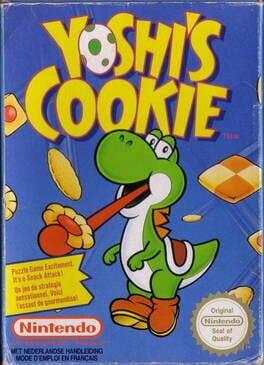 Yoshi's Cookie (ヨッシーのクッキー Yosshī no Kukkī?) is a 1992 tile-matching puzzle video game developed by Bullet-Proof Software for the Nintendo Entertainment System, Game Boy, and Super NES video game consoles. The NES and Game Boy versions were published by Nintendo while the Super NES version was published by Bullet-Proof Software.
Yoshi's Cookie was later remade and included in the compilation game Nintendo Puzzle Collection, released in 2003 for the GameCube in Japan. The NES version was re-released for the Wii Virtual Console in 2008 and available until October 18, 2013 in North America and October 11, 2013 in Japan and Europe.
Was this recommendation...?
Useful