CFK Co., Ltd.
CFK Co., Ltd.

(Company)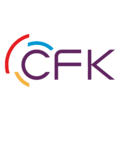 53

/

100

4

Overall rating based on 4 games
A South Korean video game developer and publisher.
Formerly known as CyberFront Korea, the company name and logo was changed at some point after June 2016.

The Japanese parent company, CyberFront, was shutdown at the end of 2013 after the company that took over, Kaga Electronics, had difficulty restructuring the business in they way they had planned.
Established:
country:
Korea, Republic of
Sorting
Rating
Title
Release Date
Sorting
Rating
Title
Release Date
Last updated on