Daybreak Game Company
Daybreak Game Company

(Company)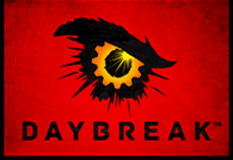 70

/

100

18

Overall rating based on 18 games
Daybreak Game Company, LLC is a leader in massively multiplayer online games, with millions of gamers around the globe having enjoyed the company's products over the years. Daybreak Game Company creates, develops, and provides compelling entertainment for the personal computer, online, game console and wireless markets.

Daybreak Games has developed and/or published a number of ground-breaking and genre-defining games, including EverQuest®, EverQuest® II, PlanetSide® 2, and DC Universe Online™.

Daybreak Game is a subsidiary of Columbus Nova.
Sorting
Rating
Title
Release Date
PlanetSide 2
November 20th, 2012 (6 years ago)
PlayStation Network / PlayStation 4 / PC (Microsoft Windows)
DC Universe Online
January 11th, 2011 (8 years ago)
PlayStation 3 / PlayStation Network / PlayStation 4 / Xbox One / PC (Microsoft Windows)
Sorting
Rating
Title
Release Date
H1Z1: King of the Kill
February 28th, 2018 (5 months ago)
PlayStation Network / PlayStation 4 / PC (Microsoft Windows)
PlanetSide 2
November 20th, 2012 (6 years ago)
PlayStation Network / PlayStation 4 / PC (Microsoft Windows)
DC Universe Online
January 11th, 2011 (8 years ago)
PlayStation 3 / PlayStation Network / PlayStation 4 / Xbox One / PC (Microsoft Windows)
Last updated on