Deck13 Interactive
Deck13 Interactive

(Company)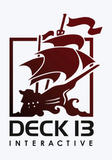 66

/

100

37

Overall rating based on 37 games
Deck13 Interactive is one of Germany's leading developers, employing more than 60 creative minds in Frankfurt. Deck13 Interactive has developed over 20 titles, including major releases such as Lords of the Fallen and The Surge. With the "Deck13 Spotight" label the team established a publishing service in 2014 to help independent developers bring their projects to wider audiences. With an experienced team and access to the major console markets Deck13 Spotlight is a growing division, with more than 10 published titles in which Deck13 has managed Producing, Localization, QA, Marketing, PR & Distribution.

Deck13 Interactive was founded in 2001 by Jan Klose and Florian Stadlbauer. We started as a traditional development studio and with the release of Ankh we took the Adventure Games market by storm. We build ourselves a name with creative story telling, intelligent puzzles and heartwarming humor. Adventures are our roots but we soon moved into the RPG genre.

With Venetica we paid the genre a first visit and with Lords of the Fallen and The Surge we made ourselves a name on the international stage.


In June 2020 it was announced that Focus Home Interactive had acquired Deck13 Interactive.
Last updated on