Digital Dialect
Digital Dialect

(Company)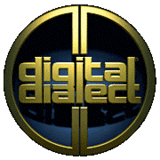 77

/

100

2

Overall rating based on 2 games
Digital Dialect is an interactive entertainment development company located in West Hills, CA.
We provide the following services :
- Development of original video game titles.
- Conversion of existing video games to new hardware platforms.
- Game development tool creation and licensing.
- Custom 3D model building (check our Gallery for examples).
- Custom web design.
Sorting
Rating
Title
Release Date
Adrenix
April 28th, 1998 (20 years ago)
PC (Microsoft Windows)
Academic
Playing the Panopticon: Procedural Surveillance in Dark Souls(2015)
Tom van Nuenen
Visit Link
-
Details
---
Last updated on