Eden Games
Eden Games

(Company)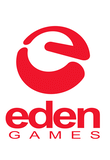 72

/

100

6

Overall rating based on 6 games
The company was founded on 4th January 1998 as Eden Studios by Stéphane Baudet, Frédéric Jay and David Nadal. All three of them previously worked together at Infogrames as a part of the internal Eden development group. By forming the company, Eden became independent. The studio initially signed contracts with Infogrames for two V-Rally games, but asserted its independence by signing a publishing agreement with Electronic Arts in 1999.
In May 2002 the company was sold to the Infogrames Group (that later became Atari), which already held 19.8% of the company's shares. In September 2003 the name was changed to Eden Games S.A.S.
Most recently, the studio is known for the Alone in the Dark reboot (2008) and the Test Drive Unlimited series.
Sorting
Rating
Title
Release Date
Test Drive Unlimited
September 5th, 2006 (13 years ago)
PlayStation 2 / PlayStation Portable / PC (Microsoft Windows) / Xbox 360
Alone in the Dark
June 20th, 2008 (12 years ago)
PlayStation 2 / Wii / PC (Microsoft Windows) / Xbox 360
Last updated on