GameHouse
GameHouse

(Company)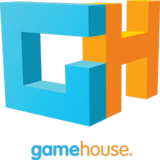 69

/

100

21

Overall rating based on 21 games
GameHouse is a casual game developer, publisher, digital video game distributor, and portal, based in Seattle, Washington, United States.

GameHouse distributes casual games for PC and Mac computers, as well as for mobile devices such as phones and tablets (on both iOS (iTunes) and Android (Google Play and the Amazon Appstore)).

GameHouse offers 2,300+ online and downloadable games, consisting of both in-house produced titles (such as the Delicious series) and third-party games.

GameHouse was founded by Ben Exworthy and Garr Godfrey in 1998.

In 2004, GameHouse was acquired by RealNetworks. After the acquisition, the GameHouse studio continued operations as a developer, while its games were distributed via RealNetworks, and the GameHouse game portal continued to operate alongside the RealArcade gaming service.

On November 3, 2009, RealArcade had announced they are merging with GameHouse to create a large distribution platform. Such plans include migrating the accounts of users from RealArcade, offering discounts and special offers to GamePass members and new social community opportunities. The merger was completed on November 13. As a result, all customers visiting the RealArcade website are redirected to Gamehouse.com.
Sorting
Rating
Title
Release Date
Sorting
Rating
Title
Release Date
Luxor
March 16th, 2005 (15 years ago)
Nintendo 3DS / PC (Microsoft Windows)
Last updated on