Global Star Software
Global Star Software

(Company)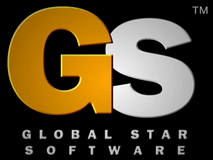 63

/

100

39

Overall rating based on 39 games
History from MobyGames:
"Founded in 1995, Global Star Software Limited was originally located in Mississauga, Ontario, Canada. The company became active in the software publishing field and branched out from its roots in value PC entertainment to offer a variety of business and utility software, as well as software for a variety of other platforms.
The company became a wholly owned subsidiary of Take-Two Interactive Software Canada, Inc., which in turn was a subsidiary of Take-Two Interactive Software Inc. Although controlled by Take-Two, the company remained intact and published games using its own logo as a publishing label.
In 2002 Global Star Software launched its Global ProBiz lineup of over a dozen business and utility products. Global Star also continued its efforts in the PDA software market, spearheading new initiatives such as multi-platform releases for both Palm and Pocket PC devices.
By the end of 2002, Global Star was reorganized and became a division of Take-Two's Jack of All Games' Canadian operations along with Triad Distributors. Shortly thereafter, Take-Two announced that Global Star's products would henceforth be sold exclusively through their Jack of All Games' sales force to strengthen the company's position in the value-priced product category. In mid 2003 Global Star Software, Inc. was formed and all distribution operations were consolidated operationally into the new company located within the Take-Two corporate facilities in New York City.
The Global Star Software label was absorbed into the 2K Play label when Take-Two announced its formation on 10th September 2007."
Established:
Status changed on:
Sorting
Rating
Title
Release Date
Army Men: Sarge's War
July 23rd, 2004 (15 years ago)
PlayStation 2 / Nintendo GameCube / Xbox / PC (Microsoft Windows)
Sorting
Rating
Title
Release Date
ESPN NFL 2K5
July 20th, 2004 (15 years ago)
PlayStation 2 / Xbox
Hidden & Dangerous
July 29th, 1999 (20 years ago)
PlayStation / Dreamcast / PC (Microsoft Windows)
Army Men: Sarge's War
July 23rd, 2004 (15 years ago)
PlayStation 2 / Nintendo GameCube / Xbox / PC (Microsoft Windows)
Carnival Games
August 27th, 2007 (12 years ago)
iOS / Wii / Nintendo DS / Nintendo Switch
Last updated on