Top 20 GO! Games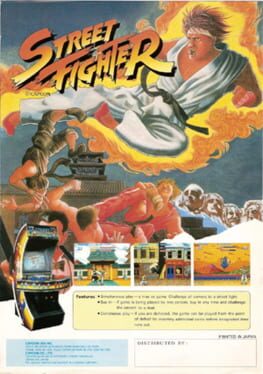 Street Fighter, designed by Takashi Nishiyama and Hiroshi Matsumoto, made its debut in the arcades in 1987. In this game, the player takes control of martial artist Ryu, who competes in a worldwide martial arts tournament, spanning five countries and ten opponents. A second player can join in at any time and take control of Ryu's rival, Ken.

The player can perform three types of punch and kick attacks, each varying in speed and strength, and three special attacks: the Hadouken, Shoryuken, and Tatsumaki Senpuukyaku. These are performed by executing special button combinations with the controls.

A port for the PC Engine/TurboGrafx CD console was released under the title Fighting Street in 1988. This same version was later re-released for the Wii's Virtual Console in 2009.
Was this recommendation...?
Useful
For two years, your people have struggled against the relentless onslaught of invading forces. With your army reduced to a handful and your artillery depleted, further resistance seems impossible.

But in a hidden underground laboratory, a team of scientists has at least perfected a new kind of fighting machinery: a bionic arm that extends and contracts, providing unheard-of strength and maneuverability. Combined with an arsenal of rapid-fire, armor-piercing, and heat-seeking weaponry, this will put the power of an entire army in the hands of one man... one carefully chosen soldier, who has what it takes to become a new breed of unstoppable commando... a Bionic Commando. And you are that soldier!

Your mission will take you through the heavily-patrolled wilderness surrounding the enemy headquarters, and into the very heart of the fortress itself. Even to the most courageous soldier, it would seem an impossible challenge. But there has never been a soldier like the Bionic Commando!
Was this recommendation...?
Useful