Top 20 GREZZO Co.,Ltd. Games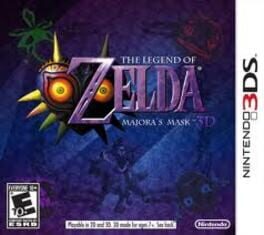 The Legend of Zelda: Majora's Mask 3D is a remastered and enhanced version of the Nintendo classic that's unlike any other Legend of Zelda adventure. In this shadowy tale, a masked Skull Kid drags Link into the world of Termina, where the moon is falling from the sky. Lucky for Termina, Link can reverse time and relive his last 72 hours in limitless ways. Each time, he'll don any of his 20+ masks, help different citizens, battle different bosses, and ultimately change the fate of a world. This is the definitive version of a dark classic.
Was this recommendation...?
Useful
The Legend of Zelda: Ocarina of Time 3D takes the Nintendo 64 classic – one of the most critically acclaimed games ever made – and returns it to the Nintendo 3DS system with the added depth and realism of stunning, glasses free 3D visuals.

In this game, Link sets off on a legendary journey through time to stop Ganondorf, the Gerudo King of Thieves who is seeking the Triforce, a holy relic that gives its holder ultimate power. The graphical upgrades and three-dimensional depth breathe new life into the expansive world of Hyrule. An improved and intuitive interface, coupled with the easier navigation offered by playing in a world with 3D visuals, give players better control as they solve puzzles, travel through time and explore this immersive world. Whether you're a first-time player or a regular visitor to Hyrule, The Legend of Zelda: Ocarina of Time 3D is a new adventure for everyone.
Was this recommendation...?
Useful
A princess in distress... A kingdom in peril...a fashion emergency?! Team up with two other heroes to save the world of Hytopia from a witch's evil fashion curse.

For the first time, you can stack three Links into a totem to solve puzzles and defeat enemies. And don't forget to pick the perfect outfit—each one gives you a different boost or ability.
Was this recommendation...?
Useful