Key
Key

(Company)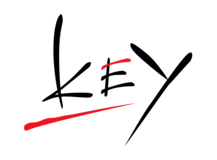 85

/

100

10

Overall rating based on 10 games
Key is a Japanese visual novel studio and is located in Kita, Osaka, Japan. In addition to developing visual novels, they have also helped to create anime not only based on their existing visual novels, but also original anime titles.
Sorting
Rating
Title
Release Date
Clannad
April 28th, 2004 (14 years ago)
Android / PlayStation 2 / PlayStation 3 / PlayStation Portable / PlayStation Vita / Xbox 360 / PlayStation 4 / PC (Microsoft Windows)
Little Busters!
July 27th, 2007 (11 years ago)
PlayStation 2 / PlayStation 3 / PlayStation Portable / PlayStation Vita / PC (Microsoft Windows)
Rewrite
June 24th, 2011 (7 years ago)
PlayStation 3 / PlayStation Portable / PlayStation Vita / PC (Microsoft Windows)
Tomoyo After: It's a Wonderful Life
November 25th, 2005 (13 years ago)
Android / PlayStation 2 / Mobile / PlayStation 3 / PlayStation Portable / Xbox 360 / PC (Microsoft Windows)
Kud Wafter
January 31st, 2013 (6 years ago)
Android / PlayStation Portable / PlayStation Vita
Kanon
December 31st, 1999 (19 years ago)
Android / PlayStation 2 / Dreamcast / PlayStation Portable / iOS / PC (Microsoft Windows)
Air
September 8th, 2000 (18 years ago)
Android / PlayStation 2 / Dreamcast / PlayStation Portable / iOS / PC (Microsoft Windows)
Last updated on