King Art
King Art

(Company)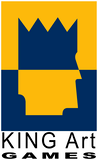 65

/

100

10

Overall rating based on 10 games
King Art is a German game developer. We have many years of experience in creating high-quality games for different platforms.
During the last 12 years we successfully completed around 40 game projects. We're working together with publishers as well as on our own projects as an indie-developer.
"The Book of Unwritten Tales" is the international one of the highest rated point-and- click adventure of the last decade. Our browser games "MyFreeZoo" and "MyFreePark" are among the top free-to-play games in several countries.
Our service includes concept, graphics and programming of games for PC, Mac Linux, Xbox 360, Playstation 3, iOS, Android, and browser, as well as support for online games.
Sorting
Rating
Title
Release Date
The Book of Unwritten Tales 2
Feb 18, 2015
(

...

)
Xbox One / Wii U / PlayStation 4 / Linux / Xbox 360 / Mac / PC (Microsoft Windows) / Nintendo Switch / PlayStation 3
Black Mirror
Nov 28, 2017
(

...

)
Xbox One / PlayStation 4 / Linux / Mac / PC (Microsoft Windows)
Iron Harvest
Sep 01, 2020
(

...

)
Xbox One / PlayStation 4 / PC (Microsoft Windows)
The Dwarves
Jan 01, 2016
(

...

)
Xbox One / PlayStation 4 / Linux / Mac / PC (Microsoft Windows)
The Raven Remastered
Mar 13, 2018
(

...

)
Xbox One / PlayStation 4 / Mac / PC (Microsoft Windows) / Nintendo Switch
Battle Worlds: Kronos
Nov 04, 2013
(

...

)
Android / Xbox One / PlayStation 4 / Linux / Mac / iOS / PC (Microsoft Windows) / Nintendo Switch
Sorting
Rating
Title
Release Date
Iron Harvest
Sep 01, 2020
(

...

)
Xbox One / PlayStation 4 / PC (Microsoft Windows)
Last updated on