Top 20 Mattel Games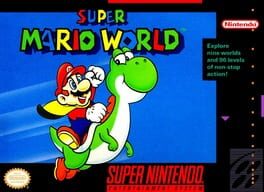 Super Mario World (known in Japan as Super Mario World: Super Mario Bros. 4) is a side-scrolling platformer developed by Nintendo EAD and published by Nintendo for the Super Nintendo Entertainment System on November 21, 1990 (in Japan), August 31, 1991 (in North America), and April 11, 1992 (in Europe).
One of the launch titles of the SNES (and bundled with early systems in North America), Super Mario World is the fifth main game in the Super Mario series. (starring Nintendo's mascot, Mario, and his brother, Luigi). The game follows both Mario brothers as they explore Dinosaur Land (known for its large amount of dinosaurs) to find and defeat the evil Koopa king Bowser (and his seven underlings, the Koopalings) while rescuing Princess Toadstool.
Along with new abilities (such as the "Spin Jump"), a new power-up (the "Cape Feather") and more obstacles, the game introduces dinosaur companions (known as Yoshi) that Mario and Luigi can ride. Yoshi, known for using their long tongues to snare and eat enemies, have become a fan-favorite among the series (giving them their own games and spin-offs, most notably this game's prequel).
Special bundles of the SNES in 1994 included a compilation cartridge mixing Super Mario World with Super Mario All-Stars. The only difference in this version is a new sprite set for Luigi. The original game was later ported to the Game Boy Advance on February 11, 2002 as Super Mario World: Super Mario Advance 2. Along with a special version of the original Mario Bros., the port includes a variety of differences, including Luigi as a selectable character (who now has unique features, such as his floating jump from Super Mario Bros. 2), new voice acting, and the ability to save anywhere. The original game was also digitally re-released in Nintendo's Virtual Console platform for the Wii (on February 5, 2007) and Wii U (on April 26, 2013).
Was this recommendation...?
Useful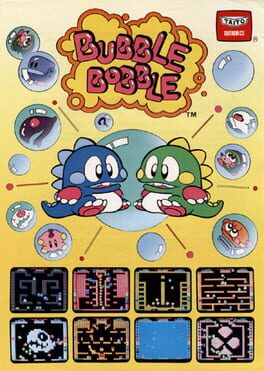 In the game, each player controls one of the two Bubble Dragons, Bub and Bob. The player can move along platforms, as well as jump to those above and to the side, similar to most platform games.
The player can also blow bubbles. These can trap enemies, who are defeated if the bubble is then burst by the player's spiny back. Bubbles that contain enemies can be popped at the same time resulting in different foods being projected around the level. Each enemy trapped in a bubble equates to a different food. Food is consumed and transferred to points (an increasing scale of 1000 points is awarded for each enemy burst in tandem with another meaning: one enemy burst equals one food item worth 1000 points, two enemies burst equals two food items worth 1000 and 2000 points, three enemies burst equals three food items worth 1000, 2000 and 4000 points, and so on), which results in earning lives. These same bubbles also float for a time before bursting, and can be jumped on, allowing access to otherwise inaccessible areas. Players progress to the next level once all enemies on the current level are defeated.
Enemies turn "angry" — becoming pink-colored and moving faster — if they are the last enemy remaining, escape from a bubble after being left too long or a certain amount of time has been spent on the current level. A monster will also become angry if either player collects a skull (the only negative item in the game), and the monster is hit by the resulting comet crossing the screen (however, this is a rare occurrence).
After a further time limit expires, an additional invincible enemy appears for each player, actively chasing them using only vertical and horizontal movements. These do not need to be defeated to complete the level, and disappear once a player's life is lost.
Contact with enemies and their projectiles (rocks, lasers, fireballs, etc.) results in death.
Was this recommendation...?
Useful