Mega Cat Studios
Mega Cat Studios

(Company)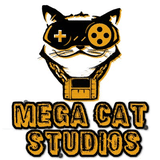 73

/

100

3

Overall rating based on 3 games
e are an independent video game development studio with a global team. At our core, we are passionate game developers and artists who seek to create meaningful experiences through our games and services.

We are all gamers, collectors and enthusiasts first. In a world of cloud storage, download codes and virtual licenses, we are excited and proud to create exclusive artisan collectibles that complement the effort that goes into indie and homebrew development.

We love creating games. From retro cartridges to PC & current generation consoles, we want to make games that are accessible and enjoyable for every gamer.
Sorting
Rating
Title
Release Date
Coffee Crisis
Feb 24, 2017
(

...

)
Xbox One / Sega Mega Drive/Genesis / PlayStation 4 / Web browser / PC (Microsoft Windows) / Nintendo Switch
Chant
2021
Sega Mega Drive/Genesis / PC (Microsoft Windows)
Sorting
Rating
Title
Release Date
Alwa's Awakening
Feb 02, 2017
(

...

)
Xbox One / PlayStation 4 / Linux / Mac / PC (Microsoft Windows) / Nintendo Switch
Coffee Crisis
Feb 24, 2017
(

...

)
Xbox One / Sega Mega Drive/Genesis / PlayStation 4 / Web browser / PC (Microsoft Windows) / Nintendo Switch
Roniu's Tale
2022
Nintendo Entertainment System (NES) / PC (Microsoft Windows)
Yazzie
Dec 06, 2019
(

...

)
MSX / Sega Mega Drive/Genesis / ZX Spectrum / Web browser / PC (Microsoft Windows)
Multidude
Oct 02, 2014
(

...

)
Nintendo Entertainment System (NES) / ZX Spectrum / PC (Microsoft Windows)
Gluf
Jan 11, 2019
(

...

)
Sega Mega Drive/Genesis / ZX Spectrum / Web browser / PC (Microsoft Windows)
Last updated on