Top 20 Nerdook Productions Games
Vertical Drop Heroes is a procedural platformer RPG hybrid with roguelike elements, where your hero adventures through randomly generated stages. Armed with a variety of skills and traits, you must use your cunning and reflexes to survive the dangers of each stage, until you face the final boss and uncover the truth behind the game!
Was this recommendation...?
Useful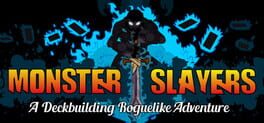 Developed by Nerdook (Reverse Crawl, Vertical Drop Heroes), Monster Slayers is a complete reimagining of the free web-based hit of the same name, which has been played over 4 million times on gaming portal, Kongregate. A rogue-like deck-building RPG adventure, Monster Slayers uses an innovative card-based battle system and lets you customize a deck to suit your play style. Create a new hero to join the Monster Slayers Guild and choose your path through the perilous Northern Valley as you follow your quest to defeat the legendary Harbinger and become a true Monster Slayer.
Was this recommendation...?
Useful
A dungeon crawl where YOU are the dungeon! Lead your minions in tactical turn-based combat against the pesky heroes, and unlock a variety of evil Powers. With a dynamic campaign system and a branching storyline, "Reverse Crawl" lets you experience an RPG from a whole new angle!
Was this recommendation...?
Useful