Top 20 Nintendo of America Games
As with previous Professor Layton games, Unwound Future is an adventure game where the player solves puzzles offered by local citizens to progress the story forward, through dialogue and around 32 minutes of full motion video. The player moves about the game through still images of locations. The player can use the DS touchscreen to tap on non-player characters to start a dialog or to obtain a puzzle, and also can search anywhere on the background for hint coins, with some areas needing to be tapped several times to reveal a secret hint coin or puzzle. Puzzles are brainteasers of many varieties, including visual, math, and logic. There is no time limit to solve puzzles, and the player can get up to 3 hints at a cost of one hint coin each; a new feature in Unwound Future is a "super hint", costing 2 coins, that can only be bought after the other 3 hints have been revealed, but that nearly reveals the puzzle's solution. If the player is correct in solving the puzzle, they gain a number of "Picarats", a form of currency within the game. Guessing the incorrect answer will reduce the number of picarats the player can get on subsequent attempts. Players can visit certain areas in order to play undiscovered or unsolved puzzles that are left behind as the story progresses.
Was this recommendation...?
Useful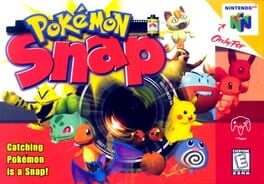 Traverse various areas and take photographs of different types of Pokémon by discovering their secrets. Capture the perfect frame to gain bonus points from Professor Oak in order to unlock helpful items and locate and photograph the elusive Mew, a legendary Pokémon whose existence has never been recorded.
Was this recommendation...?
Useful
Fox, Falco, Peppy and Slippy save the Lylat system in this new deep space dogfighting adventure. Using the Wii U GamePad controller and the TV together creates a unique interface that allows players to experience the game with two different viewpoints within the Arwing – aim and shoot enemies in one direction while flying in another. This frees up the TV for a more cinematic flight experience. Then, pilot the Arwing with its new Walker transformation, along with the new Gyrowing and the Landmaster Tank, to traverse interplanetary terrain.
Was this recommendation...?
Useful