Nitroplus
Nitroplus

(Company)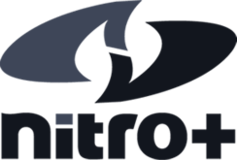 87

/

100

18

Overall rating based on 18 games
Nitroplus Co., Ltd., stylized as nitro+, is a Japanese visual novel computer software company that has developed a number of visual novels, including eroge. They also have been collaborating with TYPE-MOON (another developer) to create the light novel series Fate/Zero. Their works usually have dark themes such as reanimation of the dead and murder. They also have a branch of the company called Nitro+Chiral, which focuses on Boys' Love visual novels. Super Sonico is the mascot of Nitroplus' annual music festival event, "Nitro Super Sonico", since 2006. Nitroplus has held their music festival every year since 2000.
Sorting
Rating
Title
Release Date
Steins;Gate
August 26th, 2010 (10 years ago)
PlayStation 3 / Android / PlayStation Vita / iOS / PlayStation Portable / PlayStation 4 / PC (Microsoft Windows) / Xbox 360
Sonicomi
July 1st, 2016 (4 years ago)
PC (Microsoft Windows)
Chaos;Head Love Chu Chu!
March 25th, 2010 (10 years ago)
PlayStation 3 / PlayStation Vita / PlayStation Portable / Xbox 360
Phantom of Inferno
February 25th, 2000 (20 years ago)
PlayStation 2 / PC (Microsoft Windows) / Xbox 360
Chaos;Head
April 25th, 2008 (12 years ago)
PlayStation 3 / Android / PlayStation Vita / iOS / PlayStation Portable / PC (Microsoft Windows) / Xbox 360
Sorting
Rating
Title
Release Date
Phantom of Inferno
February 25th, 2000 (20 years ago)
PlayStation 2 / PC (Microsoft Windows) / Xbox 360
Chaos;Head
April 25th, 2008 (12 years ago)
PlayStation 3 / Android / PlayStation Vita / iOS / PlayStation Portable / PC (Microsoft Windows) / Xbox 360
Last updated on