Top 20 Nova Games Games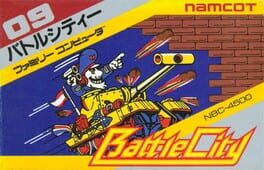 Battle City (バトルシティー Batoru Shitī), also known as Tank 1990 or Tank in some pirate multicarts releases is a multi-directional shooter video game for the Family Computer produced and published in 1985 by Namco. The game was later released for the Game Boy and was included in the Japanese version of Star Fox: Assault. It is a port of the arcade game Tank Battalion with additional features (including two player simultaneous play, and an edit feature, both explained later). There was also a rendition for Nintendo's Vs. System arcade cabinets.
The player, controlling a tank, must destroy enemy tanks in each level, which enter the playfield from the top of the screen. The enemy tanks attempt to destroy the player's base (represented on the map as a bird, eagle or Phoenix), as well as the human tank itself. A level is completed when the player destroys all 20 enemy Tanks, but the game ends if the player's base is destroyed or the player loses all available lives.
Was this recommendation...?
Useful