Paradox Development Studio
Paradox Development Studio

(Company)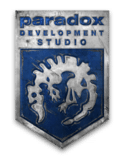 69

/

100

64

Overall rating based on 64 games
Paradox Development Studio is based on the heritage of the Swedish board game company Target Games, and has been a game developer of PC-focused grand strategy games since 1995, including the Europa Universalis, Hearts of Iron, Crusader Kings, and Victoria series. The company continued to create PC games and in 1999, the company was divided into two separate entities: Paradox Interactive, which focused on creating grand strategy games for PC, and Paradox Entertainment, which focused on creating board and role-playing games.

In January 2012, the company divided yet again into two companies, becoming Paradox Interactive and Paradox Development Studio. Paradox Interactive became the game publisher focused on PC games of various genres and Paradox Development Studio became the game development studio focused on grand strategy games.

The game development studio was one of the first video game developers to create games in the grand strategy genre, and most of the games the studio has developed falls into that category. Grand strategy games are historical strategy games that usually cover the entire world map and include elements such as economy, diplomacy and warfare.
Sorting
Rating
Title
Release Date
Crusader Kings II
February 3rd, 2012 (8 years ago)
Mac / Linux / PC (Microsoft Windows)
Stellaris: Utopia
April 6th, 2017 (3 years ago)
Mac / SteamOS / Linux / PC (Microsoft Windows)
Hearts of Iron IV
June 6th, 2016 (4 years ago)
Mac / SteamOS / Linux / PC (Microsoft Windows)
Stellaris
May 9th, 2016 (4 years ago)
Mac / SteamOS / PlayStation 4 / Xbox One / Linux / PC (Microsoft Windows)
Blackthorne
September 23rd, 1994 (25 years ago)
Sega 32X / PC DOS / Mac / Super Nintendo Entertainment System (SNES) / Game Boy Advance / Super Famicom
Imperator: Rome
April 25th, 2019 (8 months ago)
Mac / Linux / PC (Microsoft Windows)
Last updated on