Top 20 Phosphor Games
Nether is a fast-paced survival game that forces you to make quick life-saving decisions in an unforgiving environment. In this post-apocalyptic urban world, death is waiting around every corner, at the top of high-rise buildings, and in the grasp of powerful teleporting creatures known as 'Nethers'. These creatures and the other players are real challenges to overcome, requiring tactical gameplay, awareness, stealth, and cooperation. To navigate this high-tension environment, you must use skill and cunning in order to scavenge, trade, craft or loot for food, weapons, supplies, and other resources necessary to stay alive in a desolate and dangerous city. Team up with other survivors and take advantage of group play, as a tribe, to complete treacherous world objectives, or play as a lone wolf in an attempt to endure the hostile environment. In the end you must decide whether to Prey or Pray.
Was this recommendation...?
Useful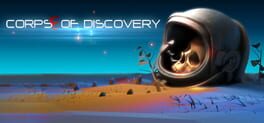 You wake up on a base in a new, unexplored planet. Your ship is torn to pieces and your gear is scattered. Why are you here? What was your mission? How will ever you get back home to your family?

Corpse of Discovery is a thought-provoking first-person game of exploration and adventure located on a myriad of procedurally generated landscapes. As the astronaut searching for answers, you'll explore unique planets and embark on missions throughout, each revealing a different understanding of what has happened and why you're here. Corpse of Discovery touches on the universal themes of loss, quality of life, identity, sacrifice, and time, ultimately culminating in the question, "What sacrifices will we make to be successful?"
Was this recommendation...?
Useful