Top 20 Psikyo Games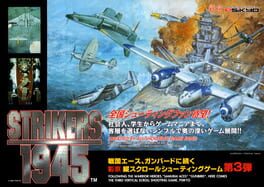 In 1945, the second world war ended. Soon, there was peace, but an organization of high-ranking military officers from all over the world form a global army known as CANY. Their mission was to conquer the world. CANY activity was found in areas like the Soviet Union, America, Japan, and even Germany. It is revealed that CANY had weapons never seen before from rockets to mechanical walkers. The world quickly formed a group of pilots and planes called the Strikers whose mission is to rid of CANY from the world.
Was this recommendation...?
Useful Mobile Light Force (better known as Gun Bird in Japan) is a classic action packed vertically scrolling shoot'em up. Five adventurers join together for the first time in this action packed title to uncover the mystery of the ancient Magic Mirror. Fight your way through the skies of early Europe to stop the evil organization who are out to steal the Magic Mirror. Blast off for fierce action with classic arcade shooter elements.
Was this recommendation...?
Useful