Reality Pump Studios
Reality Pump Studios

(Company)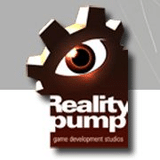 47

/

100

4

Overall rating based on 4 games
Reality Pump Studios are the creator of world-famous video games for multiple platforms, such as Xbox 360 / One, PlayStation 3 and 4, PC, Mac, Android, iPhone & iPad.
The studio's history dates back to 1995 when a development branch of TopWare Interactive was created in Kraków. For the following 20 years, is designed such world-famous videos games as Earth 2140, Earth 2150, World War III: Black Gold, Heli-Heroes.

Since February 2015 Reality Pump Studios are under the ownership of TopWare Interactive – AC Enterprises e.K. Currently, Reality Pump is one of the most experienced game design studios in Poland and has been proving its capabilities with each new title.
Sorting
Rating
Title
Release Date
Last updated on