Top 20 Rocket Jump Games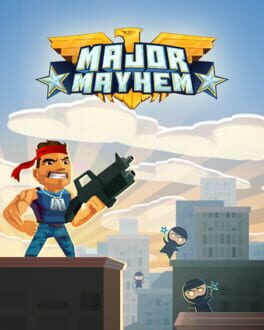 Arcade cover shooter inspired by Time Crisis, Metal Slug and 80's action heros! He's got an itchy trigger finger, some scratchy stubble, and a fondness for shooting dudes in the face. Run and gun your way through gorgeous 3D environments as you embark on a mission to rescue your kidnapped girlfriend from the Forces of Evil. Guns, grenades and an assortment of other tools of destruction are at your disposal, and you'll need every last one of 'em. So what are you waiting for, Major Mayhem? The future of the Free World -- and your love life -- hangs in the balance.
Was this recommendation...?
Useful Major Mayhem is returning to duty and once again must battle the forces of The Evil Villains Corporation! The Major and his Mayhem has never looked, felt and sounded so good! - Run, gun, and blast your way through hundreds of villains - Adventure through 50 hand crafted unique levels of non-stop action! - Show your force in 5 Big Boss Fights! - Complete the entertaining and light hearted...

story. - Unlock and upgrade 20 unique weapons! - Prove yourself by earning the 150 mission medals. - Simple to play but hard to master gameplay. - Win spectacular rewards! - Colourful HD graphics. - Everything in the game can be earned absolutely free! Nothing on earth that can prepare you for, Major Mayhem! Save the world, save your vacation! ------ A Message from the Developers: We spent a long time and a lot of effort crafting Major Mayhem 2 into be the best sequel all our fans have been waiting for. We hope the wait was worth it and we hope you enjoy it. Thank you for playing Major Mayhem and now Major Mayhem 2! Have Fun. :)
Was this recommendation...?
Useful