Top 20 Secret Exit Ltd. Games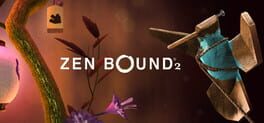 Wrap your way to bliss in Zen Bound 2, the unique down-tempo indie game! This is a different gaming experience: an opportunity to slow down, zone out and focus on a task that's challenging but not stressful, a set of gentle puzzles for the mind and fingers to solve.

The goal of the game is to paint wooden sculptures by wrapping them in rope - a task that may sound simple but has surprising complexity. Each of the levels presents a spatial puzzle that becomes obvious through inspection. Some levels feature paint bombs that are helpful in covering complex areas of the object.

Zen Bound 2 is a calm and meditative gameplay experience, with tactile, dusty visuals and a sublime, enveloping soundtrack by the sensational electronic artist 'Ghost Monkey'.
Was this recommendation...?
Useful

Turbo Dismount is a kinetic tragedy about Mr. Dismount and the cars who love him. It is the official sequel to the wildly popular and immensely successful personal impact simulator - Stair Dismount.
The highlights of this experience are multiple vehicles, an awesome replay system, level editing features, high-speed physics and an indiscriminate sense of style.
The purpose of the game is simple - damage awards points. It is up to you to try different combinations of obstacles, vehicles, poses and levels to make it to the top of the leaderboards. To support friendly rivalry, Turbo Dismount supports placing a photo of your friend on the face of Mr. Dismount - such a delightful way to express one's emotions!
Was this recommendation...?
Useful