Top 20 Sierra Games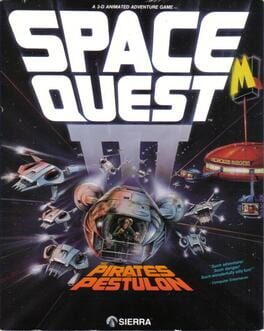 Have you seen 2 Guys From Andromeda? Software Authors Pirated?
The Two Guys from Andromeda, designers of the graphically extravagant (and satirically sensational) Space Quest series, have disappeared into this oxygen! Hysterical game fanatics around the world await word on the whereabouts of these celestial celebrities!
Who could be the mastermind behind this evil plot?
Could it be the Pirates of Pestulon, known for their plundering, preying and unprincipled practices? Or maybe the legions of Space Quest fans who would kill to be the first to play Space Quest III (the graphic adventure game with the closest thing yet to motion picture-quality animation). Not to be forgotten are the monkey-suited minions of Sludge Vohaul (from our last episode), who would love to make banana pudding out of those responsible for putting them behind bars.
Who are the dirty deed doers behind our daring duo's demise? Is it too late to save the two guys from a disgusting and downright despicable doom?
Holy SpaceWaste, space adventurers, find out for yourself as Roger Wilco, intergalactic garbagemen, returns to the rescue!
Was this recommendation...?
Useful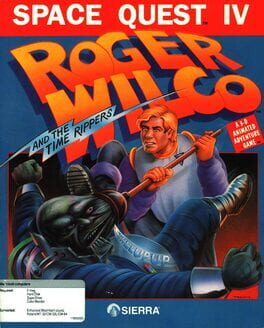 May the farce be with you! Get ready for a trek through time with everybody's favorite intergalactic sanitation engineer and freelance hero, Roger Wilco. In their latest spaced-out space opera, the Two Guys From Andomeda take on science fiction (and just about everything else!) is a spoofy sendup that will leave you laughing.
Roger Wilco embarks on a topsy-turvy trip through space and time in this fourth chapter in the award-winning Space Quest series, Roger Wilco and the Time Rippers. From a nostalgic look at his past in Space Quest I to a terrifying visit to the future of Space Quest XII, Roger's on the run again.
And hot on his ion trail are the Sequel Police, deadly crosstime assassins who are out to put an end to Roger and all of his Space Quest nonsense once and for all.
Once again it's up to Roger Wilco to save his future- or is that his past?- of the Space Quest series, and keep the universe safe for fair play, bad jokes, and lots more Space Quest Games.
Was this recommendation...?
Useful