Top 20 SNK Playmore Games
"METAL SLUG 2", the 2nd entry in SNK's emblematic 2D run & gun action shooting game returns to the battlefield on the Steam gaming platform!
Was this recommendation...?
Useful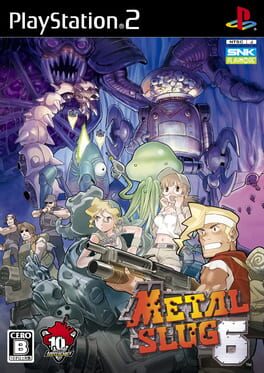 Metal Slug 6 returns to the Rebel-Martian alliance featured in Metal Slugs 2, X, and 3, but on a much broader scale. Rather than repeating the previous games' events of the Martians breaking the alliance and the Rebels assisting the player in turn, the player now teams up with the Rebels and Martians to combat an even greater threat.

Metal Slug 6 introduces a new play mechanic dubbed the 'Weapon Stock System'. Two gun power-ups can now be carried at the same time. Players can switch between the two weapons, or simply put them both away in favor of the default weapon. When obtaining a new weapon power-up, it will automatically occupy the inactive slot, or, if both are holstered, replace the less recent weapon of the two.
The score is now multiplied by powers of 2. The faster the speed at which enemies are killed, the higher the power, as a meter at the bottom of the screen shows. When it says "Max" enemies and destructible objects will drop coins for an extra high score.
Was this recommendation...?
Useful
A special disc that contains deep and intricate secrets about the Metal Slug project is stolen by a mysterious group called the Ptolemaic Army, whose specialty lies from within archaeological excavation and espionage. Marco and Tarma of the Peregrine Falcon Strike Force follow in hot pursuit against the group and in the process are joined by Eri and Fio of SPARROWS. Together once more, the quartet investigate the shrouded objective of the Ptolemaic Army.
Was this recommendation...?
Useful