Sodigital
Sodigital

(Company)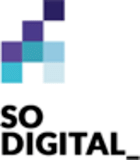 70

/

100

3

Overall rating based on 3 games
SoDigital is a Polish independent video game developer based in Cracow. We are a team of young and ambitious entrepreneurial developers brought together by our strong passion for games.

Our experience allows us to create rich games in terms of compelling stories, distinctive visual style, eye-catching animations, and fun gameplay. Each project we approach goes through a careful analysis, to which feedback from both fans and business partners is a fundamental piece of the puzzle.

We see success measured not only by the game's popularity, but first and foremost fun that it gives to the players. After all, we are players ourselves, so we know how crucial it is to design awesome thrill-ride experiences.

Thus, from the very first idea, word typed, sketch made, or line of code executed, we want to share our passion with everyone who loves satisfying games. Delivering the best possible entertainment is our ultimate goal.
Sorting
Rating
Title
Release Date
Persian Nights: Sands of Wonders
June 29th, 2017 (2 years ago)
Mac / Android / SteamOS / PlayStation 4 / Xbox One / Linux / PC (Microsoft Windows) / Nintendo Switch
Last updated on