Top 20 Spooky Squid Games Games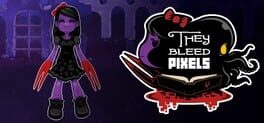 They Bleed Pixels is a fiendishly difficult action platformer inspired by H.P. Lovecraft and classic horror. Rendered in a distinct visual style that blends pixel art with paper and ink textures, They Bleed Pixels is a singular mix of intense platforming and fierce beat-em-up action. At the core of its fighting system is a simple one-button combat scheme with surprising depth and versatility. Button mashing is discouraged while kicking shadowy monsters into saws, pits and spikes is rewarded, thanks to a unique system that lets you earn and place your own checkpoints through stylish kills. The fancier your kills, the faster you fill the checkpoint meter.
Was this recommendation...?
Useful