Top 20 Stone Blade Entertainment Games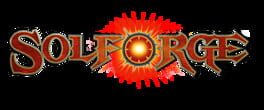 SolForge is a free-to-play digital collectible game in which players construct their own decks to challenge their friends or battle against the computer. The current open beta version includes deckbuilding, collection management, online play, AI opponents, tournaments, drafts, and more. Players can customize their decks with cards from their collection that they can earn through gameplay or purchase from the store.

The full release of SolForge will feature all of the strategy and tactics of a full-fledged CCG, including a single-player campaign mode, co-operative raids, and more. Unlike other online collectible games. SolForge was designed specifically for the digital space, with smooth game play and an intuitive interface.

The core mechanic in SolForge is leveling. Whenever you play a card, that card levels up into a new, more powerful version. As the game progresses, you level up, and gain access to your more powerful higher level cards. Some cards start off weak and level up into powerhouses, while others start off strong and don't improve much as they level, presenting strategic and tactical choices that will challenge even the most seasoned gaming veterans.
Was this recommendation...?
Useful