Sucker Punch Productions
Sucker Punch Productions

(Company)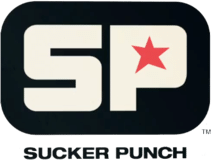 82

/

100

12

Overall rating based on 12 games
In 1997, Sucker Punch Productions was started to make great games, and we've spent the last 18 years doing just that. We produced three award-winning PS2 games starring the wily raccoon thief Sly Cooper, all of which met with critical acclaim, commercial success, and file cabinets full of fan mail. Some of it written in crayon.

In 2009, we released the open-world superhero game inFAMOUS, which rapidly turned into the summer's must-have PS3 game, with excellent reviews and solid footing at the top of the PS3 sales charts. After launching inFAMOUS 2 in 2011, we continued the inFAMOUS franchise on PlayStation 4 in 2013 with Second Son starring Delsin Rowe and standalone DLC First Light starring Abigail 'Fetch' Walker.

Sucker Punch takes the entire 2nd floor of a skyscraper in downtown Bellevue, looking across Lake Washington to downtown Seattle. We offer a great environment, a friendly set of co-workers, a full benefits package, competitive salaries, and the opportunity to work with one of the best teams around. We're proud of the games we've built, but we're always looking to get better. We're excited about strengthening our team with people that share our passion for building visually arresting, emotionally compelling, viscerally involving games.
Sorting
Rating
Title
Release Date
Last updated on