Tomorrow Corporation
Tomorrow Corporation

(Company)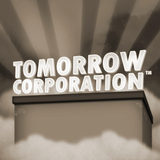 80

/

100

6

Overall rating based on 6 games
A 3 person indie studio and part of the Experimental Gameplay Group.

"Indie Laborers include EA alum Allan Blomquist, World of Goo co-creator, Kyle Gabler, and Henry Hatsworth creator, Kyle Gray."

"Makers of Little Inferno and Human Resource Machine. Previous works include World of Goo and Henry Hatsworth and the Puzzling Adventure."
Sorting
Rating
Title
Release Date
Human Resource Machine
October 15th, 2015 (3 years ago)
Mac / Android / iOS / Linux / PC (Microsoft Windows) / Nintendo Switch / Wii U
Little Inferno
November 18th, 2012 (6 years ago)
Mac / Android / iOS / Linux / PC (Microsoft Windows) / Nintendo Switch / Wii U
7 Billion Humans
December 31st, 2018 (in 6 months)
Mac / Linux / PC (Microsoft Windows) / Nintendo Switch
Sorting
Rating
Title
Release Date
Human Resource Machine
October 15th, 2015 (3 years ago)
Mac / Android / iOS / Linux / PC (Microsoft Windows) / Nintendo Switch / Wii U
Little Inferno
November 18th, 2012 (6 years ago)
Mac / Android / iOS / Linux / PC (Microsoft Windows) / Nintendo Switch / Wii U
7 Billion Humans
December 31st, 2018 (in 6 months)
Mac / Linux / PC (Microsoft Windows) / Nintendo Switch
Last updated on