Toys for Bob
Toys for Bob

(Company)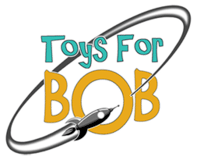 77

/

100

15

Overall rating based on 15 games
Toys for Bob is a band of inventors, makers, and magicians who have been developing whimsical, charming AAA games since 1989. We play in a former military hangar that's been converted into a colorful, tiki-themed, dog-friendly paradise just 20 minutes north of the San Francisco Golden Gate bridge. Best known for inventing the "Toys to Life" genre with Skylanders, we are a team of out-of-the-box thinkers who are driven to inspire love, joy, and laughter through epic AAA entertainment.

If you love games, are great at what you do, and don't take yourself too seriously, we'd love for you to be a part of the family! Come join an Activision studio that's part of Fortune's "100 Best Companies to Work For".
Sorting
Rating
Title
Release Date
Spyro Reignited Trilogy
November 13th, 2018 (9 months ago)
PlayStation 4 / Xbox One / PC (Microsoft Windows) / Nintendo Switch
Skylanders: Trap Team
October 5th, 2014 (5 years ago)
Wii / PlayStation 3 / Android / Nintendo 3DS / iOS / PlayStation 4 / Xbox One / Xbox 360 / Wii U
Skylanders: Imaginators
October 13th, 2016 (3 years ago)
PlayStation 3 / PlayStation 4 / Xbox One / Xbox 360 / Wii U / Nintendo Switch
Pandemonium!
October 31st, 1996 (23 years ago)
PlayStation / PlayStation Network / iOS / N-Gage / Mobile / Sega Saturn / PC (Microsoft Windows)
Madagascar
May 24th, 2005 (14 years ago)
PlayStation 2 / Nintendo GameCube / Game Boy Advance / Xbox / PC (Microsoft Windows) / Nintendo DS
Skylanders: Giants
October 17th, 2012 (7 years ago)
Wii / PlayStation 3 / Nintendo 3DS / Xbox 360 / Wii U
Skylanders: Spyro's Adventure
October 13th, 2011 (8 years ago)
Wii / PlayStation 3 / Mac / Nintendo 3DS / PC (Microsoft Windows) / Xbox 360 / Wii U
Last updated on