Trion Worlds
Trion Worlds

(Company)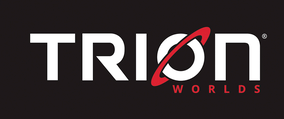 66

/

100

20

Overall rating based on 20 games
Trion is a developer and publisher of innovative, AAA games – fair and fun titles that open windows into universes unknown.
Since our founding in 2006, our games have been born of a fearless commitment to innovation and a constant willingness to refine and evolve. For us, that means running with "impossible" ideas, fostering open and honest communication with our players, and hosting the best stuff you'd otherwise never get to play.
All Trion games – from acclaimed titles like RIFT® and Trove® to projects yet to be announced – are a reflection of the passion and enthusiasm of our whole team and community. That's something we could not be prouder of as a company, as a collection of artists, and as gamers.
People from all over the world connect with our games, from our home base in Redwood City, California to cities across Europe and Asia. Every day, our international family embarks on epic adventures and creates brand new stories together. We embrace this diversity and work every day to learn and grow alongside our global gaming community.
With that goal in mind, we support a number of incredible causes that understand as well as we do that games can and should be a force for good in the world.
Sorting
Rating
Title
Release Date
Rift
March 1st, 2011 (9 years ago)
SteamOS / PC (Microsoft Windows)
Sorting
Rating
Title
Release Date
ArcheAge
January 15th, 2013 (7 years ago)
PC (Microsoft Windows)
Rift
March 1st, 2011 (9 years ago)
SteamOS / PC (Microsoft Windows)
Warface
October 21st, 2013 (6 years ago)
PlayStation 4 / Xbox One / PC (Microsoft Windows) / Xbox 360
Devilian
September 3rd, 2015 (4 years ago)
PC (Microsoft Windows)
Last updated on