Top 20 Vanillaware Games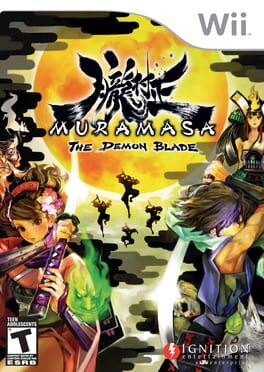 Based on ancient Japanese lore, Murumasa: The Demon Blade plunges players into the mystical Genroku era, ruled by the skilled shogun Tsunayoshi Tokogawa. But this culture is threatened; Tokugawa's thirst for power leads to a conflict over the enormously powerful, though cursed, Demon Blades. Used in hatred, drenched in blood, the cursed blades condemn those who use them to tragedy, madness, and untimely deaths. As chaos spreads, denizens from the netherworld breach their realm as these malevolent swords summon evil spirits -- and the Dragon and Demon Gods as well.
Featuring hand-drawn 2D art reflecting the heritage and tone of the storyline, Muramasa: The Demon Blade transports players into a little known mythology, envisioned by the creators of the critically acclaimed Odin Sphere. Players take on the role of a male ninja or female kunoichi, utilizing their ninja prowess to traverse the clever side-scrolling levels that feature vertical progression as well as the traditional horizontal stage advancement.
Was this recommendation...?
Useful
Dragon's Crown is a multiplayer hack-and-slash beat'em up game with breathtaking visual style, a design built around cooperative play, epic boss fights, and the ability to discover a new adventure in every play session. Developer Vanillaware deftly marries stunning hand-drawn and animated art work with deep, action-packed hardcore gameplay. Dragon's Crown allows up to four players to team up locally or online to clear out monster-ridden dungeons, discover precious treasure, and destroy awe-inspiring bosses. Its unique, highly replayable design means that every time players can boot up and log on, they can expect a different experience. Unparalleled in their unique style, Vanillaware painstakingly hand-paints every detail, be it a blade of grass or the scales on the game's impressive dragons. The game becomes a lush, vibrant storybook come to life when everything starts to animate in gorgeous full HD.
Was this recommendation...?
Useful