Top 20 Viva Media Games
The beautiful adventure game The Whispered World whisks the player away to a fascinating fantasy world. Sadwick is a young clown but often far from cheerful. One night, a strange blue creature speaks to him in a dream, and sends him on an adventurous journey. Many dangers await Sadwick, for the world he knows is doomed to crumble and fall…

In classic point & click tradition, gamers steer Sadwick and his companion Spot through the game. Little Spot never leaves Sadwick's side and is integral to solving many puzzles. He can take on many different forms throughout the game, which the player can pick and choose at will, once they have been learned.

Hand-painted backgrounds filled with animated details and lovingly crafted characters in the style of classic animated movies like "Spirited Away" bring the story to life. The Whispered World mixes fairy-tale elements with melancholic tones to create a tale of epic proportions.
Was this recommendation...?
Useful
The events of S.T.A.L.K.E.R.: Call of Pripyat unfold shortly after the end of S.T.A.L.K.E.R.: Shadow of Chernobyl. Having discovered about the open path to the Zone center, the government decides to hold a large-scale military "Fairway" operation aimed to take the CNPP under control.

According to the operation's plan, the first military group is to conduct an air scouting of the territory to map out the detailed layouts of anomalous fields location. Thereafter, making use of the maps, the main military forces are to be dispatched. Despite thorough preparations, the operation fails. Most of the avant-garde helicopters crash. In order to collect information on reasons behind the operation failure, Ukraine's Security Service sends their agent into the Zone center.

From now on, everything depends on you.
Was this recommendation...?
Useful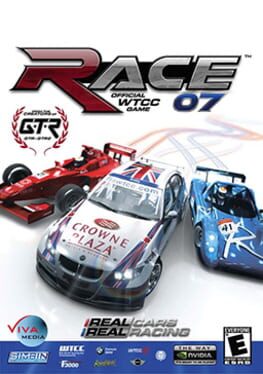 RACE 07 - The Official WTCC Game features the full FIA WTCC season of 2007 including all cars and tracks, as well as several new support classes and tracks from all over the world. The game also features the full WTCC season of 2006 which was included in the games predecessor RACE - The WTCC Game, released in 2006 on PC.
For the first time ever SimBin is also presenting single seater action with Formula cars. Race with the incredibly fast Formula 3000, Formula BMW and in addition also the Radical sports cars with the models SR3 and SR4.
To support these new race classes the player will be offered the choice between one- or two-race-format. The highly detailed damage system is also adapted to give the Formula cars the vulnerability they have in real life.
RACE 07 comes with a score of new tracks and added track variations including several new city tracks, alternate track layouts and reversed track option. Several new community oriented features, game modes and online functionalities will also be announced later.
All in all, RACE 07 features more than 300 cars in 9 different classes on 32 real life racing tracks and city circuits from all over the world.
Was this recommendation...?
Useful