Top 20 Westone Games
BOMBERMAN has arrived to restore peace on the planet, which has been split into five parts by an evil hand! In addition to the nine members of the Bomber Family, the character ROOI shows up to lend a hand. Jump on the EGGS that appear from destroyed SOFT BLOCKS, and you can ride one of five types of ROOI. Each ROOI has different special abilitiesuse these well and youll ride to victory! Bombs that turn according to arrows and other new gimmicks have been added to BATTLE GAME, increased to ten stages. Tag-team matches are now possible, ensuring that this game will be a blast!

Bomberman '94 is a video game from the Bomberman series which was developed and published by Hudson Soft for the PC Engine and released on December 10, 1993 in Japan. It was later re-developed by Westone and re-published by Sega as Mega Bomberman on the Sega Mega Drive/Genesis in 1994 in other areas. The PC Engine Bomberman '94 was later released outside Japan through the Wii's Virtual Console and the PlayStation 3's PlayStation Network.

The game supports single-player and multi-player modes. In single player, the player navigates several levels of mazes, destroying creatures with bombs. In multi-player mode, players defeat each other with bombs.

Bomberman '94 is the final HuCard title to be made and released by Hudson Soft, the original designers of the PC Engine console.
Was this recommendation...?
Useful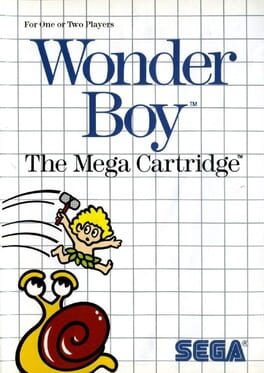 Wonder Boy (ワンダーボーイ Wandā Bōi?) is a 1986 platformer video game published by Sega and developed by Escape (now known as Westone Bit Entertainment).

Originally designed for arcades, it was later ported to the SG-1000, Sega Mark III/Master System and Game Gear video game consoles by Sega, and to the ZX Spectrum, Commodore 64 and Amstrad CPC home computers by Activision. The game is also known as Super Wonder Boy (スーパーワンダーボーイ Sūpā Wandā Bōi?) for its Sega Mark III release in Japan and Revenge of Drancon for its Game Gear release in North America.

It was the first in the long-running Wonder Boy series of games and was followed up by five sequels, Wonder Boy in Monster Land, Wonder Boy III: Monster Lair, Wonder Boy III: The Dragon's Trap, Wonder Boy in Monster World and Monster World IV. It was also the basis for the Adventure Island series.
Was this recommendation...?
Useful