Top 20 Zueira Digital Games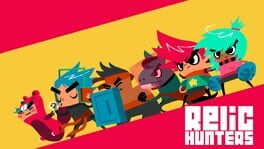 Relic Hunter Zero is a free to play open source game.
You start with 2 characters and can unlock 4 others through gameplay.
The game consists of 4 areas with 3 stages each followed by a checkpoint and then a boss battle.
"Bounty" you collect from defeating enemies remains through all runs and can be used to by items from checkpoints to permanently add them to your starting base for later runs.
The 8 relics in the game are each broken into 3 parts. They can be found at the end of a stage randomly or bought from a checkpoint. Only 3 relics can be active at the same time.
Was this recommendation...?
Useful Qasir al-Wasat is a stealth action-adventure set in a mysterious 12th Century Syrian palace.

Play as an invisible and fragile creature summoned from another world to complete an assassination mission inside an enigmatic palace.

Search for hidden messages, eavesdrop the fortress' guards conversations and look for secret passages since not everything is as it seems and there are ancient treasures waiting to be found.
Was this recommendation...?
Useful