Game Engines

Silk Engine
Silk Engine

(Game engine)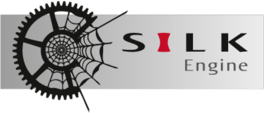 The Silk Engine is the in-house engine used by the developer Spiders. It is a modified version of Sony's PhyreEngine with its own unique features. All of Spiders productions and complete developments have used the Silk Engine.
"The Silk engine features the latest technologies in graphics (Physical Based Rendering, global illumination, ambient occlusion, multiple shadow casters, advanced image post processing, versatile particles systems…), and runs on PC and on the new generation platforms: PS4 and Xbox One.
A suite of tools and editors has also been developed in order to quickly power high-quality games for these platforms:
-Fully featured level builder (object editing, terrain system, decals, mesh painting, material editing) with layer system, node based editing and real time gameplay tuning
-Face editor with facial animation and multiple blend animation system
-3D sound system and smart dynamic music
-GUI system and international support
-Advanced dialog system and fully featured cutscene editor
-Multi-processor task scheduling
-Streaming and resource management"
Release dates:
2009
2009-12-31
Programming language:
Sorting
Rating
Title
Release Date
GreedFall
September 10th, 2019 (a month ago)
PlayStation 4 / Xbox One / PC (Microsoft Windows)
Mars: War Logs
April 26th, 2013 (6 years ago)
Xbox Live Arcade / PlayStation Network / PC (Microsoft Windows)
The Technomancer
June 28th, 2016 (3 years ago)
PlayStation 4 / Xbox One / PC (Microsoft Windows)
Bound By Flame
May 6th, 2014 (5 years ago)
PlayStation 3 / PlayStation 4 / PC (Microsoft Windows) / Xbox 360
Faery: Legends of Avalon
October 10th, 2010 (9 years ago)
Xbox Live Arcade / PlayStation Network / PlayStation 3 / PC (Microsoft Windows)
Last updated on