Time until
Ballistic Overkill

release!
Game is already released
Ballistic Overkill
Learn more
Description
Ballistic Overkill is a fast paced PvP shooter. Easy pick up and play, no complicated setups or rules: it's kill or be killed!

A new form of energy was discovered 15 years ago. Clean, safe and abundant, it changed the course of civilization. It's 2035 and a secret war surfaces for the first time as megacorporations fight for the control of the energy, hiring armies of highly skilled mercenary soldiers!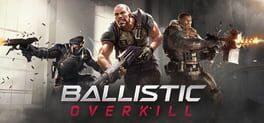 March 28, 2017