Similar
20 Games Like

Chronicles Of The Sword

(

TBA

)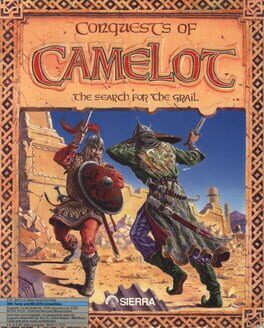 It is the most famous and sought after object in the world. It is the stuff that dreams and legends are made of. It is the one thing that will heal the heart of a king and breathe life into a dying land. More than all these things, it is a symbol of the trials of body, mind and spirit that all people face in their search for meaning and truth. Come with us to Camelot as the legendary King Arthur sets out on his ultimate quest.
As King Arthur, the weight of the world rests on your shoulders as you contemplate the task that lies ahead.
In pagan times, the legends of Camelot were told as epic tales full of fearsome battles and tests of faith. Bold, colorful, and often brutal, these tales survived the ages. They were a tribute to the legendary High King of Britain who managed to bring the warring tribes of Saxons, Celts, Angles and Jutes under one rule and bring about a rebirth of Western civilization.
Sadly, in the last half century, the Arthur legend has been recast as a cartoon and children's story. The mystic rituals and dark passions that colored the original Arthurian legends have been watered down to the soft and toothless fairy tales most commonly seen today.
With Conquest of Camelot, designer Christy Marx has dug deep into the most ancient roots of legend to restore the power and passion of King Arthur and his court: his queen's forbidden love for Sir Lancelot; the struggle for supremacy between Christianity and the ancient Roman warrior-god, Mithra. The blending of myth, history and religion behind the Grail legend is dealt with honestly and directly.
This combination of pre-Medieval history and ancient legend makes for a more sophisticated, complex and powerful view of Arthur than any you may have seen before.
Conquests of Camelot designer Christy Marx is best known for writing the "Jem" animated TV series, and the "Sisterhood of Steel" comics and graphic novel. With her husband and professional partner, illustrator Peter Ledger, she has researched Arthurian myths and legends extensively for many years in preparation for writing this game.
Was this recommendation...?
Useful
"Whoso pulleth out this sword of this stone is rightwise king born of all England"
In the days before Camelot, when magic and evil rule England, a sword sheathed in stone appears in a quiet churchyard. Engraved upon it are the words which form your destiny. For you are Arthur. the son and true heir to the High King, Uther Pendragon.
But there is more to asserting your claim than wresting free the sword. The sword in the stone disappears - stolen by the evil King Lot. To win it back, you must develop the kingly qualities of wisdom, chivalry and experience, qualities that will also prove you worthy of the throne. And you must do it all within three days, or Lot will usurp your legacy.
You are assisted by Merlin the Enchanter, who grants you the power to transform yourself into a variety of animals. Now you can explore the kingdom as no one has before: from the sky, from rivers and lakes, from on- and under- the earth. How you use this power, and how you solve the myriad puzzles that confront you, will determine your success in your quest.
Arthur: Quest for Excalibur adds an exciting new dimension to the timeless Arthurian tale while preserving all of its original richness and grandeur.
Captivating color graphics combine with the richness of Infocom's storytelling to bring you unforgettable entertainment.
Now prepare to claim your birthright as king born of all England. It's your chance to live the legend.
Was this recommendation...?
Useful