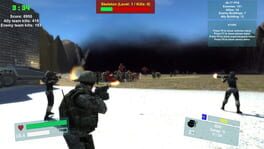 Clash of Aggression
25th Sep, 2016
Early-access
Platforms: Mac, Linux, PC (Microsoft Windows)
Clash of Aggression is all about "last stand": your team against dozens of enemies. It features characters and weapons from the middle ages and from modern times. Features implemented to date - 11 unique levels with different theme and different enemies: modern city defense, medieval town, horror maps, zombie enemies, medieval soldiers or modern soldiers - Online CO-OP: players team up against the enemy hordes - Online dea...
Read More
No lists available, why not create one?
Create new list
Need more ratings
Critic Score Unavailable
---
How would you rate this game?