Time until
Crash Boom Bang!

release!
Game is already released
Crash Boom Bang!
Learn more
Description
Crash Boom Bang! (known in Japan as Crash Bandicoot Festival) (クラッシュ・バンディクー フェスティバル Kurasshu Bandikū Fesutibaru?) is a party game developed by Dimps and published by Vivendi Universal Games in Japan and by Sierra Entertainment internationally for the Nintendo DS. It was released in Japan on July 20, 2006, in North America on October 10, 2006,[1] in Europe on October 27, 2006, and in Australia on November 2, 2006.[3] It is the only game in the Crash Bandicoot series to be developed by a Japanese company and the first to be released in Japan before North America. It was also the final game in the series to be released in Japan.

Crash Boom Bang! is the first game to be released exclusively for the Nintendo DS, and the second party game of the series, after Crash Bash. The game's story centers on a multi-millionaire who uses the characters of the series to unearth a powerful object dubbed the "Super Big Power Crystal". The game has received largely negative reception from reviewers, who criticized it for having unoriginal, dull gameplay and poor controls.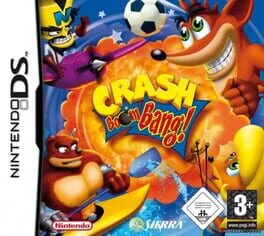 July 20, 2006