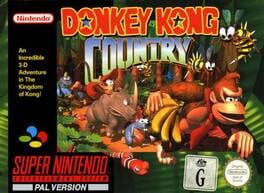 Donkey Kong Country
21st Nov, 1994
Rare
Genre: Platform
Platforms: Virtual Console (Nintendo), Game Boy Color, Super Nintendo Entertainment System (SNES), Game Boy Advance
Donkey Kong Country is a side scrolling platformer by British developers Rareware in 1994. It featured revolutionary pre-rendered 3D graphics that give the game a very unique look compared to most other games on consoles at the time. The two playable characters featured in the game are the titular character, Donkey Kong and his nephew, Diddy Kong. Together the two swing, climb, jump, swim, cartwheel, ride animals, and blast...
Read More
Hmm... no websites found for this game. Care to add one?
No lists available, why not create one?
Create new list
Based on 56
member ratings
Based on 2
critic ratings
---
How would you rate this game?