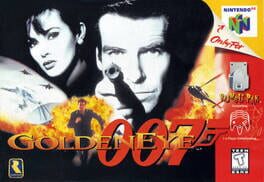 GoldenEye 007
23rd Aug, 1997
Rare
Genre: Shooter
Platforms: Nintendo 64
GoldenEye 007 is a first-person shooter video game developed by Rare and based on the 1995 James Bond film GoldenEye. It was exclusively released for the Nintendo 64 video game console in August 1997.
No lists available, why not create one?
Create new list
Based on 59
member ratings
Critic Score Unavailable
---
How would you rate this game?