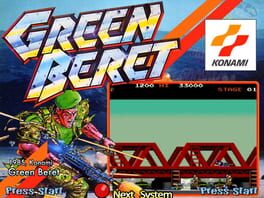 Platforms: Nintendo Entertainment System (NES), Arcade, Nintendo DS, Commodore C64/128, ZX Spectrum, Atari 8-bit, Game Boy Advance, Xbox 360, Amstrad CPC
The player takes on the role of a United States special operations soldier infiltrating an enemy military base in order to save several POW's from being executed by firing squad. There are four stages: a Marshalling Area, a Harbor, an Air Base and a Siberian Camp. The omnipresent knife can be supplemented with captured arms. By killing certain enemy soldiers, the player can obtain a three-shot flamethrower, a four-shot RPG, or...
Read More
No lists available, why not create one?
Create new list
Based on 6
member ratings
Based on 2
critic ratings
---
How would you rate this game?