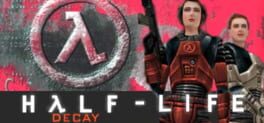 Half-Life: Decay is an Expansion for Half-Life
Genre: Platform, Shooter, Puzzle
Platforms: PlayStation 2, PC (Microsoft Windows)
Half-Life: Decay is an expansion pack for Valve Software's science fiction, first-person shooter video game Half-Life. Developed by Gearbox Software and published by Sierra Entertainment, Decay was released as part of the PlayStation 2 version of Half-Life. It is the third expansion pack for Half-Life, and like its predecessors, Decay returns to the setting and timeline of the original story, albeit portraying the story from t...
Read More
Hmm... no websites found for this game. Care to add one?
No lists available, why not create one?
Create new list
Need more ratings
Critic Score Unavailable
---
How would you rate this game?